Electric Chariot Dreamin'
This vehicle operates similar to how a clock escapement mechanism works.
Imagine my balancing Chariot as the L-shaped 'escapement':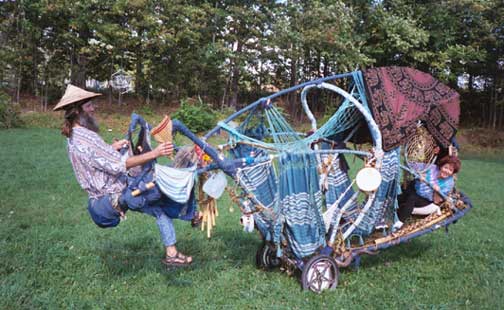 (I face the other direction when traveling.)
The balanced teeter-totter action of its overall length (18ft) is actually a sideways pendulum, similar to a Grandfather clock pendulum...only sideways!
The unwinding of the weight is the driver pulling the vehicle forward.
A rhythmic hop will balance this vehicle on high-pressure fulcrum wheels, to then roll quite a distance with very little road resistance!
It's truly a 'Conservation of Momentum'-mobile!
A Dreamcatchermobile could be just the ticket for sharing a wonderful message, while taking 'moonwalking' strides!

The
fulcrum wheels
could be
Honda, aluminum MAG, front motorcycle wheels
.
There are
new-and-improved
types of
smooth tires
being manufactured, that can be pumped-up safely to
80-100 psi.
for
charioteering
purposes. Then, they are deflated back to the rated
45psi
for the long haul, when it's all folded-up as a flatbed trailer.
So, here's the concept for having an elegant
'Foldable
Chariot'
To
ideally
be towed behind an electric-assist
rowing vehicle
, not unlike this 1905
Velocipede.
This
Current TV video
shows how this vehicle moves. The runner/driver gets to
moonwalk
, and rhythmically be lifted up by the passenger's weight, all the while leaning over comfortable pads!

Through this charioteering experience, I've learned how to leverage the forces of gravity and forward momentum to my advantage, while being able to transport four adults with relative ease!

The
Santa Barbara Chariot
getting assembled
.
This type of vehicle is a further evolution of the
traditional rickshaw
. It allows the runner to use much less effort, and all the while taking
'moonwalking'
strides!
So, my dream is one of Chariots, and I think that you will find

That this really is a 'rolling stage' to share with all humankind!
The 'Segway Transporter' (with complex gadgetry), is all left far behind.
Instead, the 'Makeway Landsporter'! Very useful & simple is what you'll find!

Doin' our work by our own steam, while easily liftin' up every pound!
As decentralized methods progress, we all could be floatin' around.

Many Nature-inspired ideas I could suggest. Oh yes, the list is very, very tall.
But for now, I'll briefly say, "Just keep human power at the center of it all"
A
Dragon 'Puppethopper'
basically has a
Dreamcatcher Chariot
skeletal framework!
The illusion of
galloping,
with the
teeter-totter
movement, can then be created.
After a ride on the back of this
mythical beast
,
passengers could peer inside and see the ornate
structure
, and the mechanical workings...
and
meet the two operators in costume!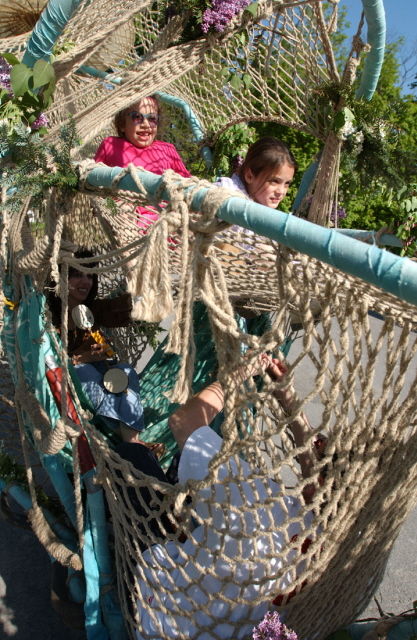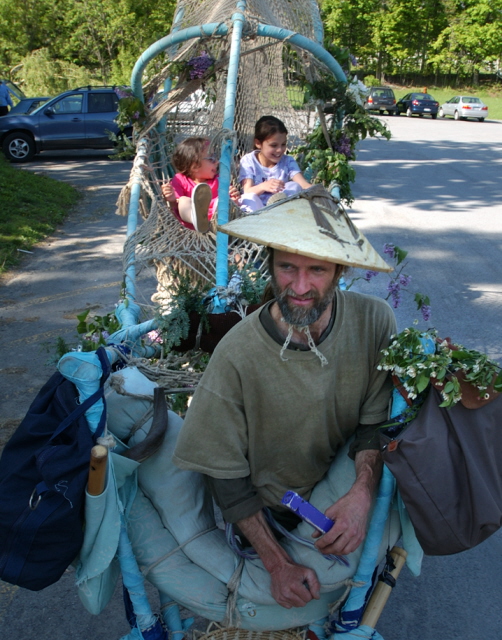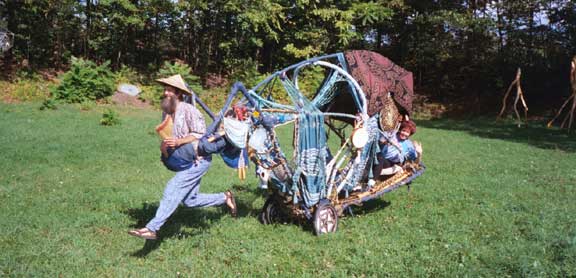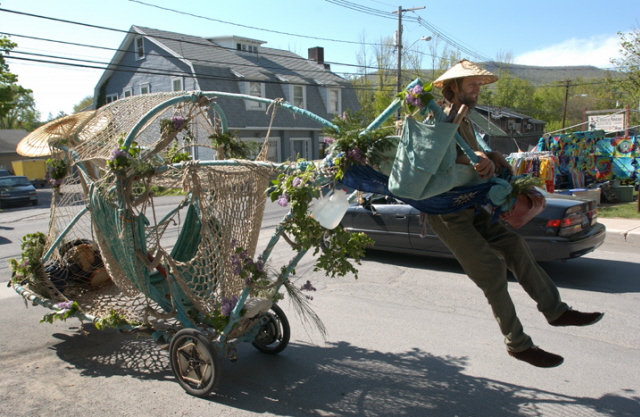 Woodstock, NY Fleamarket hoppin' Notice the "pet rocks" in the back liftin' me up, until a passenger arrives. Then the rocks get left behind, or I place them up front to balance out the load.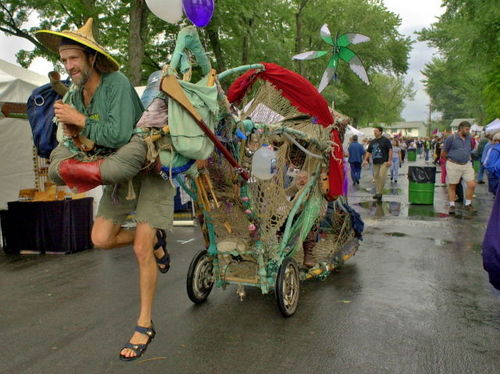 Garlic Festival hoppin'. Notice the passenger's head as he's balancing me out, makin' it a whole lot easier to transport!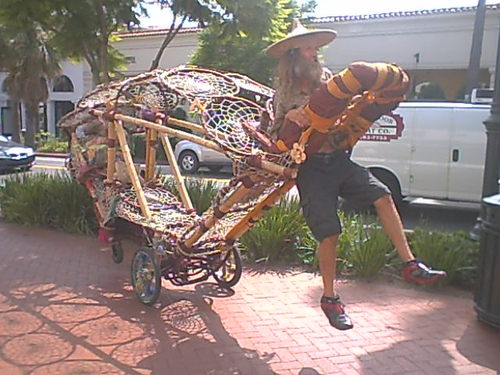 Santa Barbara hoppin'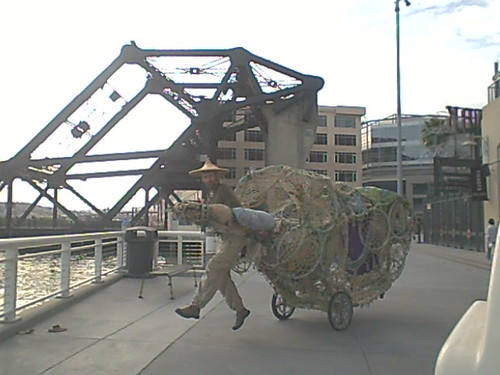 Drawbridge hoppin' in San Francisco! My Dreamcatchermobile works just like it. A 3-gallon jug of water is balancing me until passengers hop in. Then I bring it up to the front with me to balance again!
Now, imagine the further evolution of this...which could include roller skates for the runner! Electric motor hubs for both wheels then pushes the driver along.
If the roller skate wheels are designed to only roll in one direction, then the driver can efficiently pull the vehicle along, as well.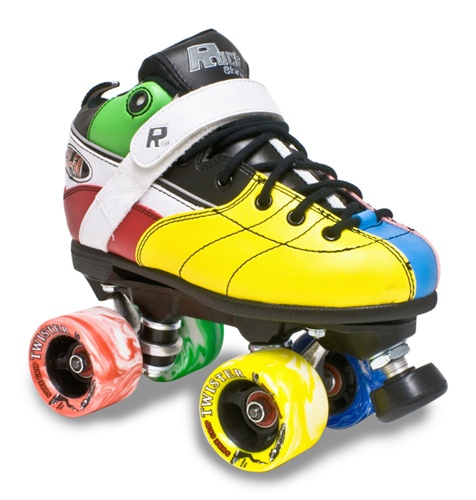 When the driver hops, then a TAIL FIN could effectively steer it!
Hydraulic disc brakes on the high-pressure fulcrum wheels stops this vehicle on a dime.
Do you share this electric Chariot-hoppin' vision?
With materials available, a Chariot could be assembled within a matter of a few weeks!
Dreamcatcher Swings are integrated to allow a person to experience being suspended inside the Chariot from a single point.