The Charioteering Lifestyle in Philly!
The 'Charioteering Lifestyle' theme is about a unique way to safely transport people in a light-hearted and very elegant fashion!
Yes, this next model will be able to transport 800 pounds of people, that could be pulled around by a 100 pound person, who runs with moonwalking ease! At the end of the event, it will fold up, to become a flatbed trailer!
This upcoming DREAMCATCHER CHARIOT is designed for reaching a large spectrum of people, from little children, to great grandparents! Truly it is a 'rolling stage', complete with percussion & stringed instruments!
A birthday party Charioteering business is in the works.
Here is a three minute video: CURRENT TV BURNING MAN:
http://vimeo.com/12754869
http://darinselby.1hwy.com 575-737-8459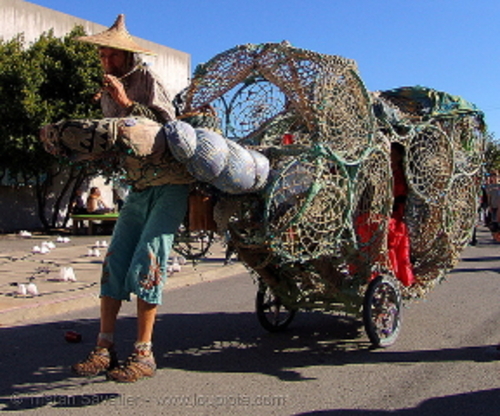 "Ready for liftoff!" Two girls hanging out in a hemp rope hammock. Dad and Mom are sitting below!