The human-powered 'RV' lifestyle!
The photo below is my latest chariot at the Summer Solstice parade in Santa Barbara, CA. It is constructed around a granny trike! One of the passengers could pedal and assist with forward motion this way.
3" diameter bamboo and lashed with bicycle innertube, which is then covered up with decorative cloth. Electric wheel chair wheels, 120psi BMX bike tires and a hardened steel 5/8" axle. The hoops for the hemp rope dreamcatchers are made from aluminum bicycle wheel rims.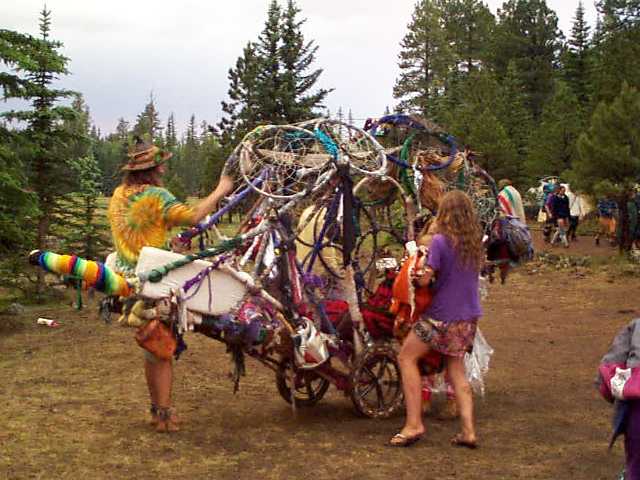 This is one of my first balancing Dreamcatcher Rickshaws at the National Rainbow Gathering in Arizona, 1997
I must say, I love my job! It's so much fun to live on the 'edge' like this! It's kinda like having a 'land boat'! I went through last winter living on a 'Skeedaddlehopper RV' I insulated the walls, and 'goosedown everything' is the key!
I believe that this is one reason why I am so healthy. I breathe fresh, cool air at night while staying warm in a nice sleeping bag! I must say, I can get too comfortable living indoors all the time! Doing it this way causes me to creatively come up with new and novel solutions!
This one below was built in Woodstock, NY. I wove all of the hemp rope hammocks. Sched40 aluminum conduit was bent into the arches. It was then wrapped with dyed, hemp fabric. One hemp hammock was dyed & batiked with spirals and squiggles! Hemp, hemp, hooray!